"
Stay true to who you are, even though that sounds cliché. It's something that's important - doing what feels right for you.
"

– Alessia Cara
Alessia Cara (born: Alessia Caracciolo; July 11, 1996) is a Canadian singer-songwriter. She is signed to EP Entertainment and Def Jam Recordings and is best known for "Here", her debut single from the debut studio album, Know-It-All, released November 13, 2015, "Stay", a collaboration with Zedd, and "Out of Love", a single from her sophomore album, The Pains of Growing.
Cara's debut studio album, Know-It-All, reached number 8 on the Canadian Albums Chart and number 9 on the Billboard 200 chart in the United States. The album's third single, "Scars To Your Beautiful", reached number 8 on the Billboard Hot 100 in 2016. In 2017, Cara collaborated with DJ and producer Zedd to create the single "Stay", and with rapper Logic to feature in his song "1-800-273-8255". Cara has received nominations for four Grammy Awards, including a win for Best New Artist in 2018.[1]
In late 2018, Cara released three singles, Growing Pains, Trust My Lonely and Not Today leading up to her sophomore album, The Pains of Growing, along with a promotional single, A Little More, on her birthday. Alessia then released the album on November 20, 2018. It debuted at number 21 on the Billboard Canadian Albums Chart dated December 15, 2018 and at number 71 on the US Billboard 200.
An emotional track from the album, Out of Love, was re-released as a single in 2019. In the same year, Cara released Ready, Rooting For You, Okay Okay and October, all from her sophomore extended play, This Summer, which released September 6, 2019.
Early life and education
Alessia Caracciolo hails from Brampton, Ontario, where she attended Cardinal Ambrozic Catholic Secondary School.[2] Her family is from Calabria. Her father was born in Canada to Italian parents and her mother is an Italian immigrant.[3] She can speak Italian.[4] As a child, she wrote poetry and did theatre.[5] She began playing guitar at the age of 10 and taught herself how to play various songs. At the age of 13, she began her own YouTube channel where she posted covers of songs that she performed.
Career
Cara appeared on various radio stations; including 15 Seconds of Fame on Mix 104.1 Boston.[6] In 2014, she signed a deal with EP Entertainment imprint, along with the distribution of Def Jam Recordings.[7][8]
In April 2015, Cara released her official debut single, through Def Jam.[9] Titled "Here", it was described by MTV as "a song for everyone who secretly hates parties."[7] Produced by Pop & Oak and Sebastian Kole, the song is her personal experience with going to a party and being super uncomfortable at it. On May 5, 2015, the song was chosen as the "can't-miss" track by Spin, as well as being listed as a "must hear song" by Cosmopolitan.[10] The song was also named one of the best Canadian songs of April by Complex Magazine[11] and included on Billboard's "20 Pop Songs You Need For Your Summer Playlist" in June 2015.[12] Rolling Stone later ranked "Here" at number 21 on its year-end list of the 50 best songs of 2015.[13]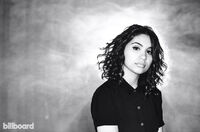 On July 29, 2015, Cara made her first-televised debut performing her single, "Here" on The Tonight Show Starring Jimmy Fallon.[14] "Here" then received a nomination for "Original Song" at the Streamy Awards.[15] She released the EP Four Pink Walls, containing five songs; including her debut single, "Here." Her debut album, Know-It-All, was released on November 13, 2015.[16][17] She was short-listed for the BBC Music Sound of... award for 2016 and finished as the runner-up.[18]
Cara was awarded as Breakthrough Artist of the Year at the 2016 Juno Awards.[19] On March 7, 2016, the official video for "Wild Things" was released.[20] In April 2016, Cara was announced to be one of the supporting acts of British alternative rock band Coldplay in the European and North American legs of their A Head Full of Dreams Tour alongside British singer-songwriter and Grammy winner Foxes.[21] On June 23, 2016, Cara was featured in a re-released version of the song "Wild" by Troye Sivan. She played Glastonbury Festival on June 24, 2016, in the John Peel tent. The music video for Cara's single "How Far I'll Go", from the Disney film Moana, was released on November 3, 2016, and since then has received over 200 million views on YouTube.[22] The song was written by Lin-Manuel Miranda, produced by Oak Felder and the video was directed by Aya Tanimura.[23]
Cara released a music video for "Seventeen" in December 2016.[24]
Cara performed on Saturday Night Live as the musical guest on February 4, 2017.[25] On February 23, a lyric video of the song "Stay" by Zedd featuring Cara was released.
Cara featured on the song "1-800-273-8255" from Logic's Everybody album. The song was released as a single on April 28, 2017, and also features American singer-songwriter, Khalid. Cara also made an appearance in the video which premiered on August 17, 2017, on Logic's Vevo Channel on YouTube.
On January 28, 2018, Cara was named the Best New Artist at the 2018 Grammy Awards, making her the first Canadian artist to win this award.[26]
On June 1, 2018, Cara released a teaser video following a week of cryptic Twitter posts.[27] On June 9, she posted lyrics to a new song on her social media accounts for fans to piece together. Once completed, she announced the single's cover and name on June 11.[28] The single, titled "Growing Pains," was released on June 15, 2018.[29] Its music video was released on June 20, 2018.[30]
On July 10, 2018, Cara announced that she would be releasing a song she made in her basement, written and produced by her, the next day, as a small gift for her birthday.[31] The single, titled "A Little More", was released on July 11, 2018, with the music video also released the same day.[32] In September 2018, Cara announced that she would be releasing a song titled "Trust My Lonely" on October 5, 2018.[33]
She will be performing at the CFL's 106th Grey Cup Half Time show in Edmonton, Alberta on November 25, 2018.
Artistry
Cara is a Contemporary R&B|R&B[34] and alternative R&B[35] singer. She also creates music in the pop, Soul, and indie pop genres.[36][37]
Her influences include Lauryn Hill, Amy Winehouse, P!nk, Fergie,[38] Drake and Ed Sheeran.[39]
Official Account
Personal life
Since 2016 she's been dating singer-songwriter, Kevin Garrett.[40]
Discography
main article: discography
Awards and nominations
main article: awards
External links
[http:www.twitter.com/alessiacara twitter]
Gallery
"Don't you know you're no good for me?"
To view the Alessia Cara gallery, click here.
References
Community content is available under
CC-BY-SA
unless otherwise noted.